Lockout Service Baltimore, MD – Locksmith Service Baltimore MD
We've all been in situations where we – or someone close to us – has lost the keys to their homes, or been locked out of cars. Getting locked out of your property can be a frustrating and, occasionally, panic-inducing experience.
How do lockouts happen?
There are many reasons why lockouts happen. In our years of working on the field, here are some of the most common ones we've come across:
Human error:
We all make mistakes. We see a lot of people managing to lock themselves out of their vehicles by leaving their keys inside the ignition and locking their door shut when they get out. A number of our customers misplace their keys somewhere, or forget the combination to their locks.

Failure of components:
Lockouts also occur by failure of the mechanical components that make up the lock, when the lock is old and worn-out for example. Keys also can break inside locks sometimes, jamming the locking mechanism. With the case of electronic locks, we sometimes see problems with the program or the wiring. Doors themselves can go off-track and jam.
Why do you need a lockout service?
You need a lockout service if you want to get your door open without damaging it or the lock in any way. If you don't have the right tools for the job or experience, and you attempt to open your door by yourself, you could end up causing harm to it or yourself. If you manage to get locked out of your car in the middle of nowhere, you need a professional locksmith to bail you out.
Why choose Locksmith Service Baltimore MD?
Locksmith Service Baltimore MD is a reliable lockout service in Baltimore, MD that is available 24 hours a day, 7 days a week, 365 days a year. Our locksmiths can be called for help even during the middle of the night. We always charge affordable rates too.
Here follow some of the USPs of our lockout service: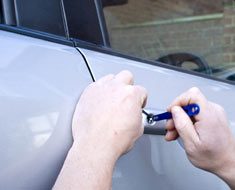 We can reach your location within 30 minutes (in 15-20 minutes, in fact)
Our locksmiths have a lot of experience handling lockouts
Our mobile locksmith units allow us to provide on-site assistance
We charge reasonable rates even if you call us at 3am.
We provide a range of lockout services - including commercial, residential, and automotive lockouts
We also unlock car trunks in quick time
You can call Locksmith Service Baltimore MD on 410-874-1099 to request our friendly, professional, and reliable lockout service!